Poll: Ocean Extreme EPA range
Topic starter
May 14, 2023 3:51 am
What do you think the EPA estimate for Extreme is going to be?
I just want an official range from EPA, any range! 🤨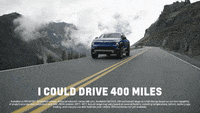 Mariana / Maliblu / F5
#4827
I'm going with.  368
i know there are complaints that Fisker might be getting long range by excessively large battery size rather than efficiency.  I get that and for the environment I want as much efficiency as possible.  However from a cost of operation standpoint I think range is very important.
I'm retired and my driving patterns may be different than many.  Probably 80% of my annual miles are on a 420 mile trip between my homes in Virginia and Holden Beach, NC.  Filing electricity at 12-14 cents per kw at my homes looks like I can stop along the route for maybe 35-45 KW at "market" prices between 27-40 cents per kilowatt.  
I'm guessing that most EV drivers are getting a substantial amount of charge at home or maybe free at work.  To us, range seems very valuable.
The Ocean One will be my first EV so I have a lot to learn about optimizing range while getting from point A to B.
Irv
404  a good number and Hot 'lanta area code.
Ocean One 4301 | Mariana | Maliblu | 22" F3b SlipStreams |
Fisker Ocean One #2185 | Mariana | MaliBlu | 22" F5 Black AirGliders | 7/9/22 Order | 3/13/23 Lock
2018 Tesla Model 3 LR RWD | 2020 Volvo XC60 Inscription | 2015 Nissan Murano SL | 2012 Chevy Volt (no longer own)
Stock ownership disclosure: Long positions on FSR, QS, RIVN, SLDP, TSLA
Will I get my Fisker One delivered before my VW needs its 100K service?? The race is on..
and…… will we still get the $7500 tax credit? Only HF knows…